Jura Single Malt whisky is adding a 'smooth and warming' 14 Year Old American Rye Cask edition to its Signature Series, in celebration of Jura's island community and the unbreakable bond between the islanders and the whiskies they produce.
Initially matured in Jura's traditional American White Oak ex-Bourbon barrels, which are the perfect partner for all the new make spirit at the distillery, the whisky has been further matured in hand-selected American rye whisky casks to add depth and complexity, with distinctive layers of spicy and aromatic flavours.
The rye casks impart notes of cinnamon, vanilla, cacao and warming honey to Jura's signature smooth and bright profile.
Warm gold in colour, Jura 14 Year Old Rye Cask is reminiscent of warm summers evenings on the island, with classic fresh notes of citrus and vanilla balancing mango, fresh mint and crushed almonds.
On the palate, flavours of toffee apple and pecan pie are revealed with layers of cinnamon, honey, cacao and hazelnut, before giving way to a long, warm and nutty finish leaving an impression of maple syrup, guava and soft spice.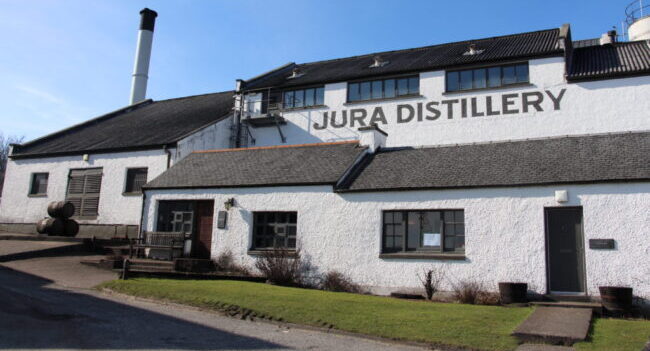 Gregg Glass, Whisky Maker & Blender at Whyte & Mackay, comments: "The vibrancy of our 14 Year Old Rye Cask is matched only by the spirit of the community on the island. The close-knit group are the inspiration for us to produce whiskies which transport you to Jura with every sip.
"The rye casks add a warming complexity and depth of flavour to our signature fresh and vibrant Jura spirit, making it a perfect dram for every season."
Global Head of Brand for Jura, Claire Blackadder says: "Each bottle of Jura Whisky is a celebration of its island home and embodies the passion of those who make it – and the Jura 14 Year Old Rye Cask is no exception.
This latest addition to the Signature Series follows the launch of Jura Rum Cask Finish last summer and is presented in a striking green carton emblazoned with scenes from Jura complemented by golden rye, uniting the heritage of this whisky. Additionally, a QR code gives those who purchase a bottle an exclusive opportunity to discover more about the liquid, its story and how best to enjoy it.
"The remote Scottish island provides the canvas from which these dedicated islanders take their inspiration and the distillery provides the means to bring this to life. Our stills are amongst the tallest in Scotland, which create a light new make spirit with a citrus and pine character, and we use peated malted barley for less than four weeks a year which is added sparingly to provide body and seasoning to each whisky. This allows the Jura distillery to provide a unique home to craft our spirit."
Jura 14 Year Old American Rye Cask is available now and will roll out into key markets later in the year.