Walsh Whiskey has released a unique expression in collaboration with the renowned Dick Mack's Brewhouse in Dingle – The Irishman Single Malt – Coffee Stout Cask.

The release consists of just 240 bottles of Single Malt from a unique three cask maturation and finish, combining American Bourbon, Spanish Oloroso Sherry and Coffee Stout from Kerry.
Announcing the release Walsh Whiskey, Managing Director, Bernard Walsh, said: "This exclusive bottling commenced its journey in January 2018 when an intrepid bunch from Dick Mack's Brewhouse in Dingle made the journey to Carlow with their Coffee Stout Barrel. We filled it with The Irishman – Single Malt, which itself is matured in American Bourbon and Spanish Oloroso Sherry barrels, and we left it to mature for 9 months. We are delighted with the results of this exclusive collaboration."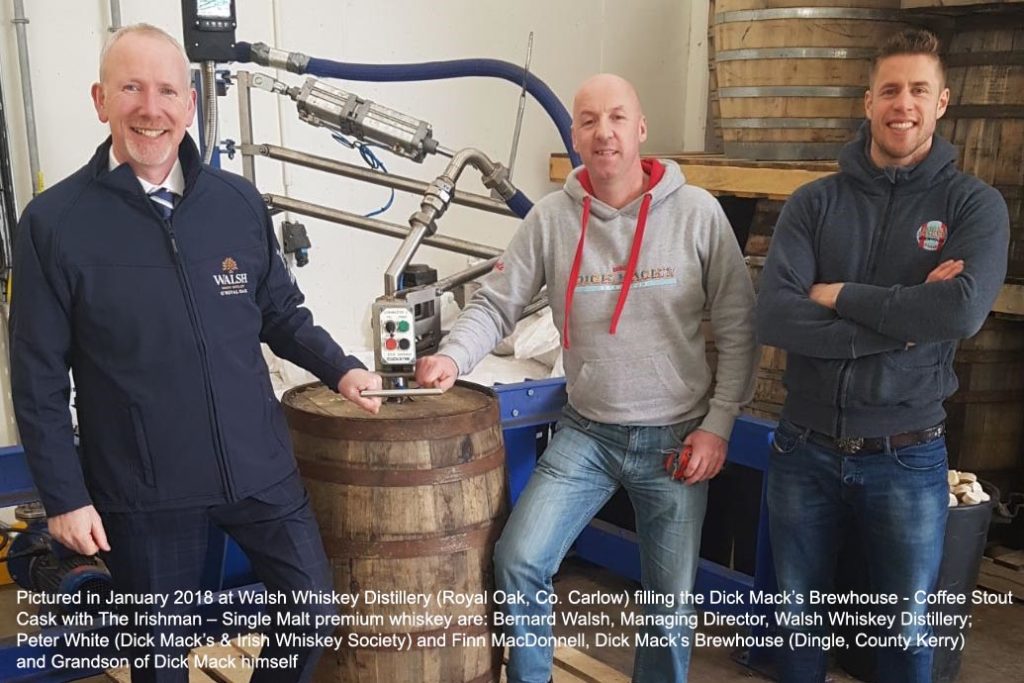 Finn MacDonnell of Dick Mack's Brewhouse said: "This idea sprang from a conversation between Walsh Whiskey and Peter White who had previously discussed the merits of having a collaboration between Dick Mack's Pub and Walsh Whiskey. We are privileged that Bernard Walsh was as enthusiastic as ourselves to work on this project and as a result, we are delighted to be able to bring this whiskey to fruition."
Bottled at 48% ABV, this very limited release will be exclusively available from the Celtic Whiskey Shop.