Arbikie Highland Estate has announced its arrival in the Scottish Whisky industry by launching its 'Highland Rye' Single Grain Scotch Whisky, the first Rye Whisky distilled in Scotland for over 100 years.
Arbikie's Highland Rye Single Grain Scotch Whisky was laid down in 2015 and uses a combination of Arantes Rye, Odyssey Malted Barley and Viscount Wheat. The Whisky, which is owned and distilled by the Stirling brothers in Lunan Bay near Arbroath, stays true to the family's farming heritage with all crops grown on the farm meaning every ingredient used in the making of the Highland Rye can be traced back to the field it was grown in.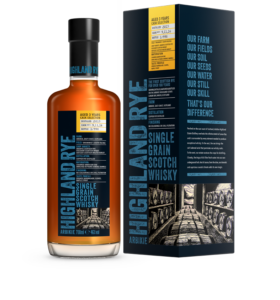 John Stirling, Director of Arbikie Highland Estate commented:
"We are absolutely thrilled to launch Scotland's first Rye Whisky in over 100 years. Records show a distillery at Arbikie in 1794; a time when they would have only used crops grown on the family farm. We're bringing this tradition back to Scotch Whisky with provenance, terroir and traceability of ingredients at the heart of everything we do. Growing rye requires long periods of dry weather, which can be challenging, however, our farm team has done an excellent job."
The copper pot distilled Highland Rye Single Grain Scotch Whisky has been matured in first-fill charred American Oak casks and finished in Pedro Ximénez casks with no colouring and no chill filtration.
Arbikie Master Distiller, Kirsty Black commented:
"We've been working on our Highland Rye for years and it has posed some challenges from a growing and distillation point of view. The flavour profile is orange marmalade, cloves and maple syrup. The main differences between our Highland Rye and American Rye is that traditionally American Rye uses corn in their mash bill, and usually malted rye. At Arbikie we have used unmalted rye, malted barley and wheat. The ageing process is also significantly different due to temperatures in the US and Scotland respectively."
With only 998 bottles released (globally) the demand for this product is set to be high. UK retail price is in the region of £250 GBP.
This limited edition release is available direct from Arbikie & from selected retailers across the globe.